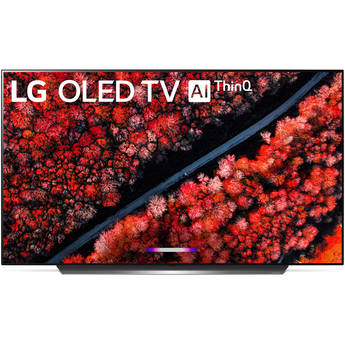 LG OLED65C9PUA OLED TV Review
In the world of HDTV sets OLED technology stands head and shoulders apart from the rest of the pack as far as picture quality is concerned – and there's no better OLED television on the market today than the LG OLED65C9PUA.
Offering unbelievably high fidelity when it comes to picture sharpness and resolution, as well as providing a myriad of colors and lighting options you won't find anywhere else (all ends of the spectrum), OLED televisions offer all the benefits plasma TVs offer with none of the drawbacks.
At the same time, because OLED TVs are so much better than everything else available right now you can expect to pay bit of a premium price tag. This is true with the LG OLED65C9PUA, though prices have come down quite a bit in the last few years, making this a much more reasonably priced option (even at 65 inches diagonal).
To better help you decide whether or not this is your next TV investment or if you should look somewhere else we've put together this quick review. We cover all the basics of this set and do a deeper dive into its core features and big benefits while highlighting some of the minor drawbacks you'll definitely want to be aware of before you pull the trigger on this purchase.
Let's dig right in!
First Impressions of the LG OLED65C9PUA
Right out of the box it's important to know that this specific TV comes in three different configurations – 55 inch, 65 inch, and 75 inch models.
This review specifically tackles the "middle" option – the LG OLED65C9PUA – but you'll be happy to know that because these TVs take advantage of the same internals, the same processing hardware, and identical Smart TV features this review really covers all three models quite well.
It all comes down to screen size and we feel that the 65 inch gives you the most bang for your buck (but that something will dive into more in depth in just a moment).
The first thing you're going to notice when you lay eyes on the LG OLED65C9PUA is just how gorgeous this LG display really is.
LG is universally regarded as the masters of OLED technology, the pioneers that help to usher in this technology but also the manufacturer that has really perfected everything OLED has to offer. The display here is jaw-dropping to say the least, with amazing extra color, razor-sharp resolutions, and some of the best white and black light elements you'll find anywhere in the world of OLED TVs.
The LG OLED65C9PUA model also features next generation HDMI 2.1 connectivity options, the new universal standard for the next wave of HDMI enabled devices. This is a huge bonus if you're going to be upgrading your media hardware or want to take full advantage of the "Internet of Things" solutions that make the most of HDMI 2.1.
The smart TV features built right into the LG OLED65C9PUA are pretty solid, exactly what you would expect from a premium and top-of-the-line set like this and definitely what you'd expect from the folks at LG. Google Assistant and Amazon Alexa are baked right into this TV which will really help you to maximize home automation technology you might be using but also guarantees you can pair this TV with your smart phone and mobile devices with no difficulty, either.
The last thing we really want to touch on here before we dive deeper into the specifics of this television is the audio quality.
Whenever you're talking about a flatscreen as sleek and as slender as this one most people immediately feel that audio quality is going to be lackluster and pretty tinny. There's just not enough room for powerful speakers to be installed in a set like this.
Well, that's not true any longer.
The LG OLED65C9PUA has some of the best built-in sound quality you're going to find anywhere in the world of flatscreen TVs today. Not only can you achieve pretty loud sound levels without distortion but you're also going to get solid high, mid, and low frequencies with quite a bit of bass packed in as well.
No, it's not quite as nice as surroundsound or as a high-end sound bar. But those that sweat a little bit when it comes to the price tag of this OLED TV might be able to pull the trigger on this purchase knowing that they can upgrade their sound hardware little bit later down the line when their budget allows.
LG OLED65C9PUA Design and Build Quality
Year after year LG gets a lot of accolades and a lot of attention for the hardware design that they feature in their televisions, particularly at the high-end of their lineup with the OLED models like this one.
This particular option – the LG OLED65C9PUA – is no exception.
LG has found a way to really take advantage of the unique engineering properties OLED systems have to offer to provide for a super thin and almost totally bezel free display, a minimalist design that really strips this TV down to the bare essentials.
Barely framed with just a bit of brushed aluminum across the perimeter of this TV, whether it is set on top of a cabinet or mounted on the wall is going to look clean, sleek, and super futuristic – all while making the most of top-tier construction materials throughout.
Measuring 57" x 32.7" x 1.8" it's almost unbelievable that this TV really does come in at less than 2 inches thick at its thickest part. The top half of the television comes in at just 0.1 inches thick to provide for and even more sleek and minimalist profile look which only adds to the attractiveness of this TV across the board.
Picture
To put it bluntly, you simply will not find a better looking television picture ANYWHERE else when you choose to take advantage of all the LG OLED65C9PUA has to offer.
The color quality here is unparalleled, the 4K resolution (native resolution) is stunning, and the way that the OLED technology pioneered by LG here handles action and motion – particularly when watching sports – makes you feel like you are watching real life in high definition.
To be fair, the panel in the C9 isn't all that much improved compared to the previous year panel, but that's because LG has already really maximized OLED television technology. The lighting here is a little bit brighter with darker and more authentic black colors and the HDR experience is going to make your jaw drop the first time you see it in action.
There's no haloing whatsoever, you lose absolutely no detail in dark shadows, and you'll never feel like bright pops of color are washed out when you have this set fired up.
Sound
As we made mention of a little bit earlier, the sound quality that you are going to get out of the LG OLED65C9PUA is almost too good to be true. It isn't anything like what you find shoehorned into most traditional flatscreen televisions, that's for sure.
A pair of 40 W speakers handle the bulk of the heavy lifting, specifically engineered with downward firing positions in the very bottom of the TV chassis to guarantee that your entire television watching spaces filled with accurate sound from top to bottom.
A 20 W subwoofer is also included to punch up the bass this sound set up, and while it again isn't quite on par with high-end dedicated sound systems or even sound bars it's light years ahead of what you'll get out most flatscreen TVs.
If you're serious about audio fidelity the odds are pretty good that you'll either already have a surround sound system you'll be plugging into the LG OLED65C9PUA or will be looking to upgrade later down the line with a nice new sound bar.
But with this OLED TV you won't feel like you need to upgrade your sound ASAP, that's for sure.
Ports
There are a bunch of connectivity options that you'll be able to take advantage of with the LG OLED65C9PUA, the part of this TV that has been radically overhauled and upgraded compared to the previous version.
The LG C9 now supports three dedicated USB ports, has a built-in RF connection and tuner module, and can support composite input for older hardware as well as optical output for legacy audio systems.
On top of all that, however, you get four individual HDMI ports that you can take advantage of – with each and every one of them supporting HDMI 2.1 right out of the box. This standard supports 4K at 120 Hz with absolutely zero difficulty whatsoever, something that you will ONLY find with LG OLED TVs.
LG also made sure that these HDMI 2.1 ports handle Quick Media Switching natively as well. This means that your TV will automatically adjust its resolution and its frame right to match the content that you are pushing across the screen, guaranteeing that your TV is playing back media at the best possible resolutions every single time you fire it up (even when you're working with different media sources).
Smart Features
This LG C9 OLED television take advantage of the latest Alpha 9 Generation 2 processor, the brains of the smart technology inside of this TV, and one of the most advanced processors you'll find in any television on the market today.
The LG webOS interface has been paired seamlessly with the new ThinQ AI technology this hardware giant has been working on, both of which feature new improvements only available on this latest series of LG OLED TVs that represent major leaps forward compared to last year.
Google Assistant and Amazon Alexa are both television as well, helping to provide immediate access and interfacing with your home automation devices as well as your smart phone or tablet.
Wi-Fi is rocksolid and you'll have an opportunity to go with a dedicated ethernet connection if you're interested in even faster and more secure connections, too.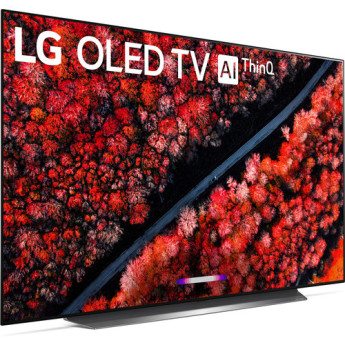 Final Verdict
At the end of the day, the only real knock against this particular television is its price tag.
The C9 65 inch model from LG is going to set you back north of $2200 as of early 2020, which is quite a bit less than what you would have paid for OLED television technology even just two or three years ago – but it isn't exactly a budget focused TV set, either.
All things considered, however, this is maybe the best premium television you'll find on the market today – especially at the 55 inch, 65 inch, and 77 inch configurations.
The 65 inch set up that we have been reviewing throughout this quick guide really hits that sweet spot between price and performance, giving you a gorgeous picture with plenty of screen real estate to guarantee it is the focal point of any space.
If you're in the market for a new TV and want only the very best of the best when it comes to hardware, picture quality, and reliability (and don't mind spending a premium price tag for an amazing TV) the LG OLED65C9PUA is going to be right up your alley.